The Little Art Window: CHIHARU SHIOTA
:
4 Altelauenenstrasse, Gstaad
Current & Ongoing exhibition
OLIVIER VARENNE is delighted to present a new in-situ installation by Japanase artist Chiharu Shiota in Gstaad at The Little Art Window, 4 Alte Lauenenstrasse, 3780 Gstaad.
The artist and her oeuvre
"Everyone is connected if you are part of society. People are connected to each other, but we are also linked to the universe. I feel like I have a universe inside of me and it is also connected to the outside universe that is why I paint this vast pattern. It looks organic like the cell in our bodies, but because it is big it also resembles the universe that surrounds us."
Chiharu Shiota is known for her exploration of the intangible. Working with a variety of media her personal experiences are often the starting point, through which she questions universal issues such as identity, boundaries and existence – and thus the relationships between the body, memory, life and death.
Red and black, pastel or thread feature heavily in Shiota's work. Rich in symbolism, the colour red for the artist alludes to our connectedness to each other, the interior of the body and the complex network of neural connections in the brain. Pastel or thread are fluid, expressive and immediate materials – and respond to the emotive associations of the colour. About both colour and media the artist has said: "Red is, of course, the colour of blood, and also in Japan there is a fable that a red string links people though time to their destiny. The legend says that a thin vein connects the heart to the pinky finger. And a red thread then connects from your pinky finger to your future lover. The red string may become tangled, postponing the meeting point, but it can never break. It's to do with fate and about the strength of human relationships."
Olivier Varenne has worked with Shiota for many years. He first discovered her work on a trip to Japan in 2007 and included her in the 3rd Moscow Biennale which he co-curated in 2009. He also worked with Shiota with on & on at La Casa Encendida, Madrid (2010-2011) which focussed on her ephemeral art.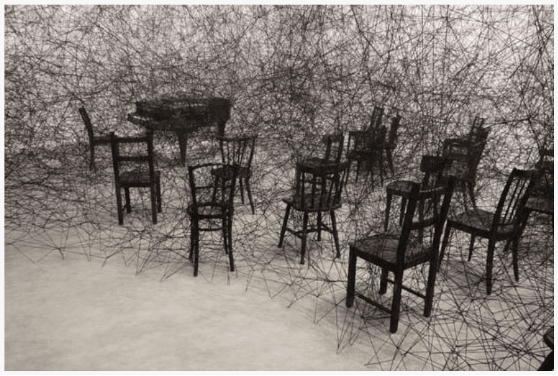 INSTALLATION VIEW OF ON & ON, LA CASA ENCENDIDA, MADRID 2010-2011
Human immediacy and presence are at the core of Shiota's works – embodied in her own words as 'the presence in absence'. The man-made marks with which she explores this concept can be compared to the immediacy felt in ancient cave paintings, notably those in Australia, a country the artist has long had connections. In 2011 Olivier Varenne curated a show of four new works by Shiota at Detached in Hobart, Australia in association with Mona Foma which included a grand piano Shiota set fire to, and around the cooled and transformed charred unfamiliar form, she spun a vast cocoon of black thread.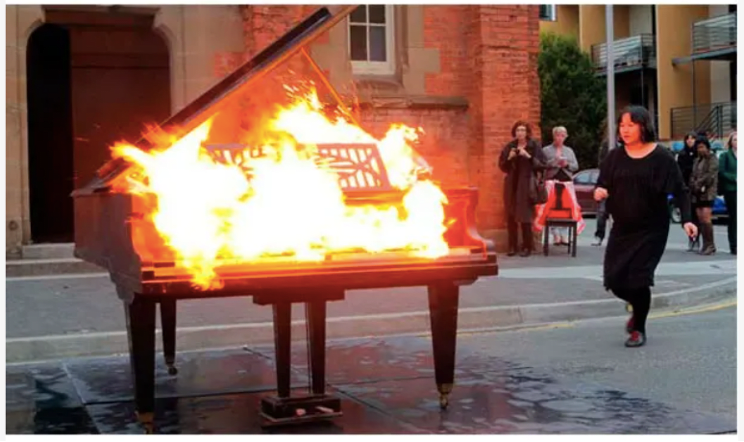 PERFOMANCE FOR IN SILENCE, DETACHED, HOBART, 2011
Shiota was also part of the exhibition The Red Queen at Mona from 2013-2014 which posed the question, 'why do humans make art?'. Including over 100 items from Neolithic arrowheads to Egyptian scarabs, funerary art, Bactrian and Indo-Greek coins to contemporary commissions, Shiota's work Red Line XXI contributed to the focus on evolution and creativity which wove through the exhibition.
Based in Berlin, Osaka-born Shiota represented Japan at The Venice Biennale in 2015 with her work The Key in the Hand. Using red thread to 'draw' in three dimensions, she wove intricate networks of yarn across spaces, incorporating over 50,000 keys. She explained: 'Keys are familiar and very valuable things that protect important people and spaces in our lives. They alsoinspire us to open the door to unknown worlds'.
After Venice, Olivier Varenne curated Rain of Memories at Patricia Low's gallery in Gstaad, 2015-2016, which included a site specific installation as well as sculptures, paintings and works on paper.
Shiota travelled to Germany in 1996 in order to study under Marina Abramović. She studied painting early on and then used her own body in performance pieces. She later turned to using thread as it allowed her to remove her physical presence from her works yet still address ideas central to her practice. Shiota's recent return to the two dimensional with her works on canvas and paper can be seen as her creative journey coming full circle.