The Little Art Window: CHRISTO
:
The Mastaba (Project for Abu Dhabi, United Arab Emirates), 2012
Past exhibition
CHRISTO, The Mastaba (Project for Abu Dhabi, United Arab Emirates) 2012
pencil, charcoal, pastel, wax crayon, enamel paint, hand-drawn map and technical data and tape; in two parts (38 x 244 cm. part 1, 106.6 x 244 cm. part 2)
Coinciding with the unveiling of the Arc de Triomphe, Wrapped this week in Paris, The Little Art Window is delighted to present Christo's The Mastaba, a unique drawing for a yet to be produced monumental sculpture in Abu Dhabi.
Christo and Jeanne-Claude worked on The Mastaba for over 40 years. First conceived in 1977, it will be the largest permanent sculpture in the world, made from 410,000 multi-coloured oil barrels forming a rectangular superstructure echoing ancient Egyptian tombs. It will be 300 metres wide, 225 metres deep and 150 metres high.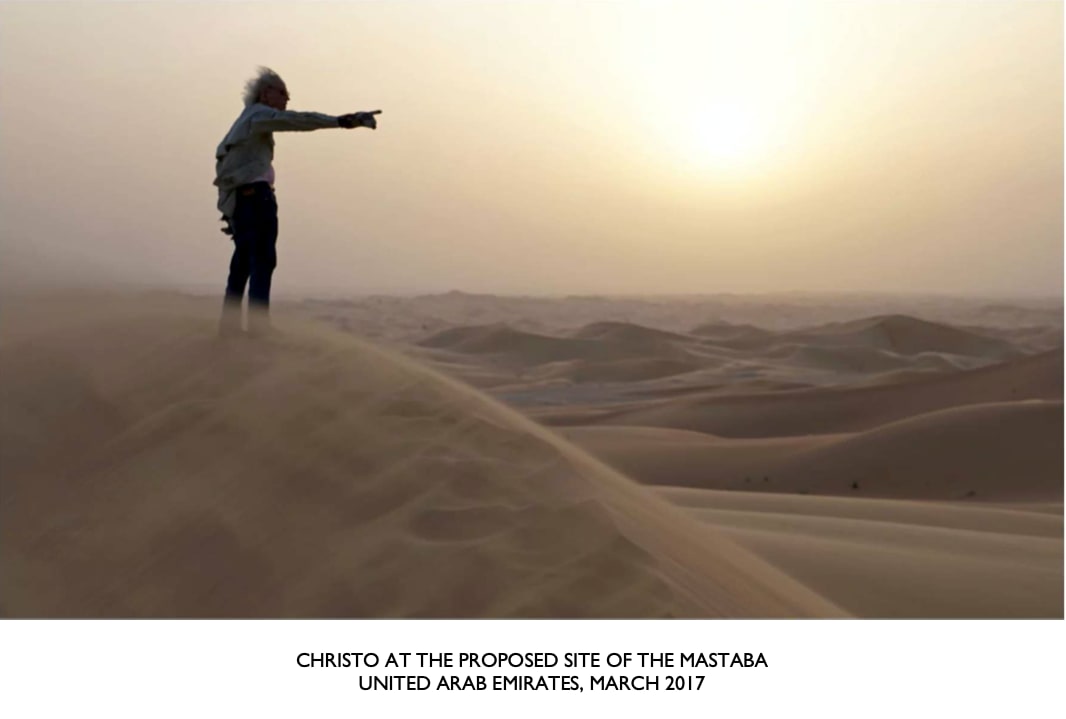 A much smaller preparatory version of The Mastaba had floated on the Serpentine lake in London in 2018.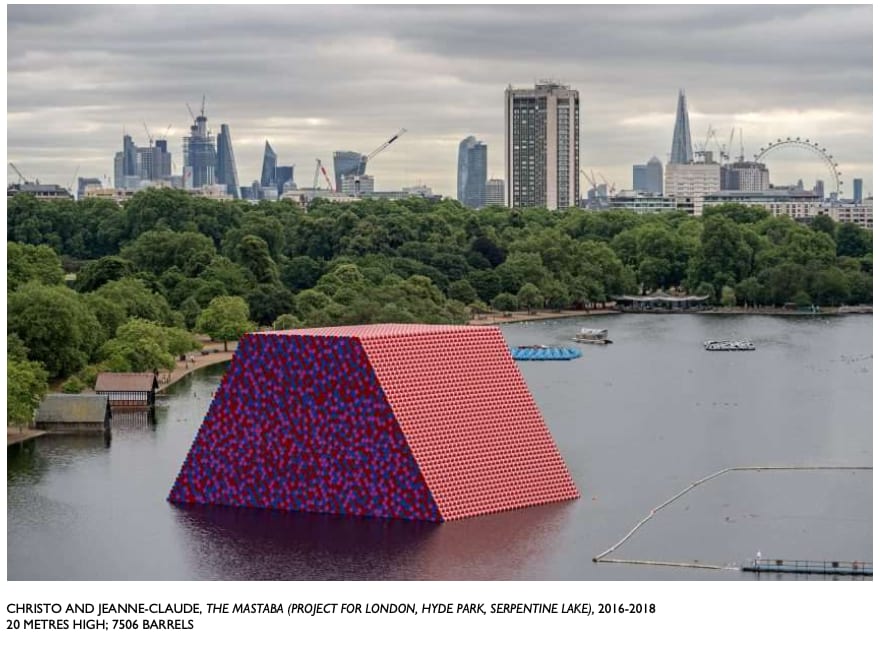 As with all Christo and Jeanne-Claude works, the sale of this Mastaba drawing by the artists' estate will help fund the realization of this visionary sculpture.
CHRISTO VLADIMIROV JAVACHEFF (1935–2020) KNOWN AS CHRISTO
Noted for their large-scale, site-specific environmental installations, Christo and his wife Jeanne-Claude (1935–2009) often planned their works (often taking decades to do so) around large landmarks and wrapped landscape elements in fabric. Projects include the Wrapped Reichstag (1971-1995), The Pont Neuf Wrapped (1975-1985),Running Fence (1972-76)inCalifornia, andThe Gates (1979-2005)inCentral Park, New York.
Born on the same day in Bulgaria and Morocco respectively, the pair met and married in Paris in the late 1950s. Originally working under Christo's name, they later credited their installations to both 'Christo and Jeanne-Claude'. After Jeanne-Claude's death in 2009 and until his own death in 2020, Christo continued to plan and execute projects.
Their work was typically large, visually impressive, and controversial, often taking years and sometimes decades of careful preparation – including technical solutions, political negotiation, permitting and environmental approval, hearings and public persuasion. The pair refused grants, scholarships, donations or public money and instead chose to finance their projects via the sale of their own preparatory studies, drawings and paintings.
Christo and Jeanne-Claude described the myriad elements that brought the projects to fruition as integral to the artwork itself, and said their projects contained no deeper meaning than their immediate aesthetic impact; their purpose being simply for joy, beauty, and new ways of seeing the familiar.
THE LITTLE ART WINDOW
The Little Art Window is an innovative vitrine nestled into an old chalet in the heart of Gstaad (Switzlerand), curated by Olivier Varenne and showcasing leading contemporary artists. Address: 4 Altelauenenstrasse, just off the main promenade, around the corner from the Posthotel Rossli. Contact and info: info@varenne.art / +41 79 326 66 60