Gregory Masurovsky Drawings
:
Drawing from the Bronx-born, Paris-based, consummate draftsm
Past exhibition
Olivier Varenne is proud to present a group of drawings by Bronx-born, Paris-based, consummate draftsman, Gregory Masurovsky (1929-2009).
Drawing, for Gregory Masurovsky, was 'to sculpt in light'. In his portrait drawings, as much as his still-lifes and nudes, the extensive variety and range in his black on white also recalls the chiaroscuro in Old Master drawings, as much as the soft tonality of George Seurat and Eugène Carrière and the precision of the early works on paper by Lucien Freud.
At Black Mountain College in North Carolina Masurovsky disliked the authoritarian approach of Josef Albers and turned to other subjects such as carpentry, psychodrama, poetry and economics. After a stint in the army he returned to New York and it was there that he discovered graphic media. In 1953 he married fellow art student Shirley Goldfarb (1925- 1980). The following year they used their meagre savings for a one-way boat trip to France. Their first night in Paris was spent talking to artists in the cafés of Montparnasse. Their son, Marc Jean, was born in 1956.
"Drawing, is the adventure of a hand recounting the history of a soul."
The interplay between text and images were crucial to Masurovsky's thinking process. He was able to turn a text into drawing. In 1956 he was introduced to the French poet and writer, Michel Butor (1926-2016) and the two went on to collaborate for forty years on a series of books and manuscripts.
During the 60s, 70s and 80s the Masurovskys mixed with the Paris scene, which included Andy Warhol, David Hockney, Jean-Paul Sartre, Yves Saint Laurent and Alberto Giacometti. They were often at Café de Flore, especially Shirley who would sit there every day for twenty-five years and who struck a distinctive figure in her long black dyed hair, Beatnik clothing of a roll-neck sweater, jeans and high-heel clog boots accompanied by her wiry Yorkshire terrier.
David Hockney adored Shirley, "I thought she was funny," he recalled. "She liked mocking things, and we became quite good friends. I used to dine at the Coupole a lot and Shirley would come looking for me... She and Gregory lived very modestly, but she thought they were privileged living in the most beautiful city in the world." Fascinated by their relationship and contrasting characters, Hockney saw them as a subject for a new double portrait.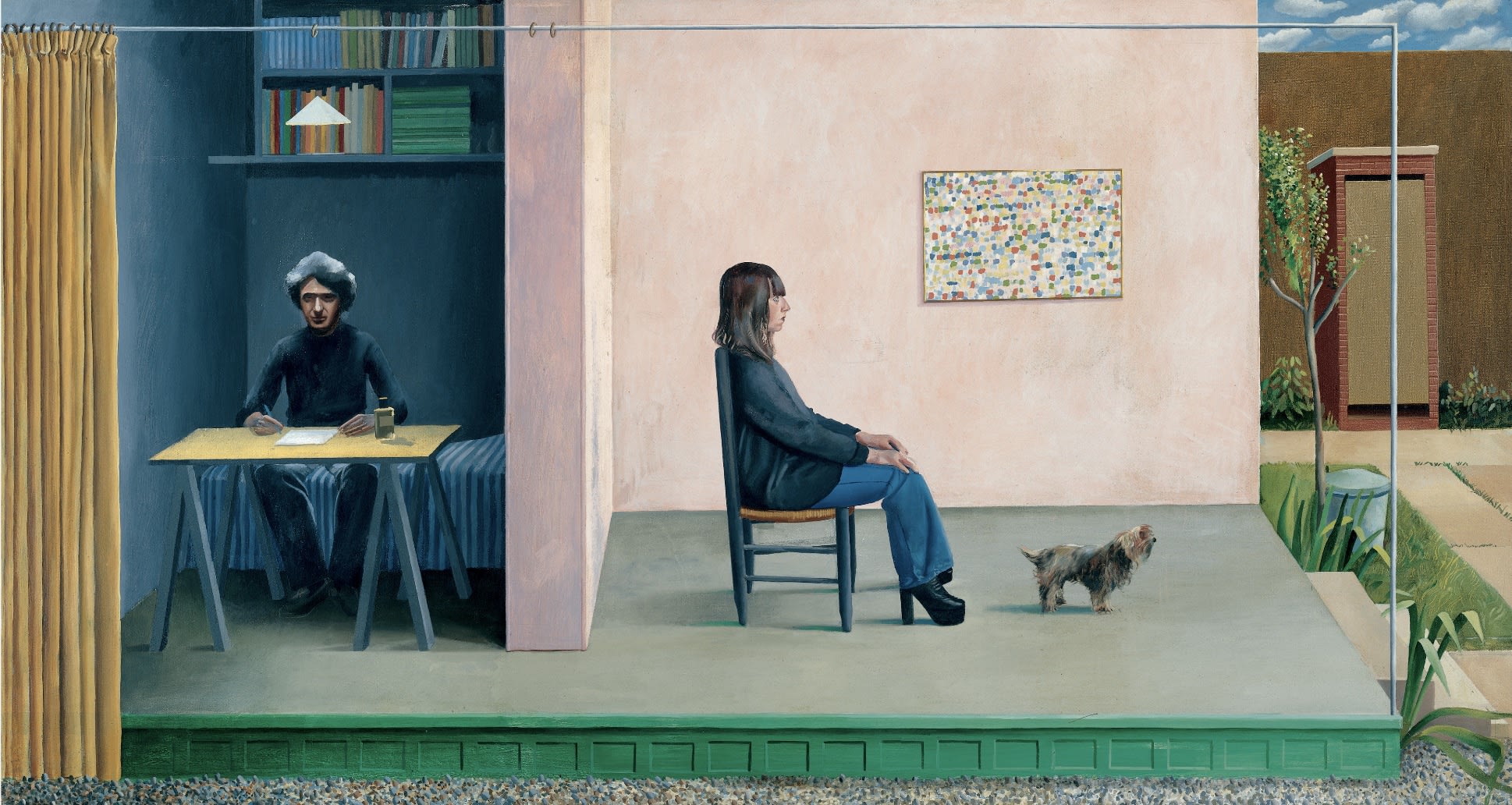 Hockey, Shirley Goldfarb & Gregory Masurovsky, 1974, 114.62 x 213.36 CM., San Francisco Museum of Modern Art © David Hockney
In 1995, Masurovsky enrolled in a typography class and mastered how to handset lead type. He began printing a collection of books of his writings and those of others under the name Editions Liancourt, and edited his wife's journals in French, published posthumously as Carnets–Montparnasse 1971-1980. He also made several short and experimental films about his art. Draftsman, printmaker and book artist, in all media Masurovsky's highly individual, subtle shadings and shifting tonalities reveal a whole spectrum of colour, texture and nuance. Later in life he reflected that 'the white spaces between the dark lines open up portals to other dimensions where I could meet Shirley'.
GREGORY MASUROVSKY (1929-2009)
1943-1947: Studied at The High School of Music and Art, New York 1947-1948: Studied at Black Mountain College, North Carolina
1952-53: Studied at The Art Students League of New York
1966-67: Professor of Drawing at Minneapolis College of Art and Design 1969: Artist in Residence Tamarind Lithography Workshop, Los Angeles 1980-87: Professor of Drawing at the American Center, Paris
1986: Artist in Residence at Harrow School, U.K.
1989: Professor of Etching at the International Summer Academy, Salzburg, Austria 1993: Drawing Course at the Ecole Municipale d'Art, Chalon-sur-Saône
1998: "Distinguished Lecturer" Pine Manor College, Massachusetts
2007: Lee Krasner Grant - The Pollock-Krasner Foundation
2008: Lee Krasner Grant - The Pollock-Krasner Foundation
SELECTED SOLO EXHIBITIONS
1957: Galerie du Dragon, Paris
1960: Galerie La Hune, Paris
1963: Klipstein & Kornfeld, Bern Gallery Alexander Iolas, New York Kestner-Gesellschaft, Hanover
1964: Palais des Beaux Arts, Brussels 1965: Galerie Jacques Benador, Geneva 1967: Minneapolis Institute of Arts 1969: Frank Perls Gallery, Beverly Hills 1969: Betty Parsons Gallery, New York 1971: Galerie Albert Loeb, Paris
1975: Galerie Adriano Ribolzi, Monte Carlo 1982: Musée de Pontoise
1990: Forum Gallery, New York
1992: Librairie Jacques Matarasso, Nice 1995: Galerie Lambert-Rouland, Paris 2000: Galerie Michèle Broutta Paris
2003: Fondation Zervos, Vézelay
2003: Atelier Georges Leblanc, Paris
2004: La plume et le crayon, Musée Tavet-Delacour, Pontoise
2004: Black Mountain College Museum and Arts Center, Asheville NC 2006: Galerie Artemisia, Paris
2007: Galerie Agnes Dutko, Paris
SELECTED GROUP EXHIBITIONS AND FAIRS
1960: New Acquisitions: Drawings, Watercolors, MOMA, New York
1961: 2nd Biennale de Paris (Critics of Drawing Prize) 1963: 3rd Biennale de Paris (International Jury Prize for Engraving)
1964: DOCUMENTA III, Kassel, Germany
1966: 1st Internationale Biennale of Engraving, Cracow, Poland (Special Prize)
1977: Quelques Peintres Américains à Paris, Centre Georges Pompidou, Paris
1977: La Main, l'Ecriture et son Support, Musée de Pontoise
1987: Sartre et l'Art, French Academy in Rome, Italy
1989: Michel Butor and his Painters, The Seibu Museum of Art, Tokyo, Japan
1997: Artistes Américains en France, Mona Bismarck Foundation, Paris
2001: Michel Butor: Rencontre-Trajectoire, Centre Joé Bousquet, Carcassonne
2002: Black Mountain College, Una Aventura Americana, organised by Museo Nacional Centro de Arte Reina Sofia, Madrid
2005: 66th Salon des artistes peintres et graveurs français, Paris
SELECTED PUBLIC COLLECTIONS
Centre Georges Pompidou (MNAM); Musée d'art Moderne de Paris (MAM); Fonds régional d'art contemporain (FRAC), Ile-de- France; Bibliothèque Nationale; Musée de Pontoise: Donation Granville, Musée des Beaux Arts, Dijon; Fonds Cantonal de Décoration, Geneva; Kunstmuseum, Basel; Old Speech Room Gallery, Harrow School, U.K.; MOMA, New York; Brooklyn Museum; New York Public Library; Carnegie Institute of Arts, Pittsburgh; Minneapolis Institute of Arts; Detroit Institute of Arts; Arkansas Arts Center, Little Rock; Art Institute of Chicago; Fogg Art Museum, Harvard University; Baltimore Museum of Fine Arts; Addison Gallery of American Art, Andover; The Library of Congress, Washington, DC.